Most celebrations of Chevrolet's centennial surround the automaker's production vehicles. Why not? After all, this is the brand that birthed legends like the Bel Air, Corvette, and Camaro, among others. Those vehicles are certainly worth celebrating, but we can't help but wonder: what about the Chevrolet cars that never saw a production line? We've scoured through the history books (and our memory banks) to pick out ten of our all-time favorites.
1954 Nomad
After the Corvette appearead as a concept at GM's Motorama show in 1953, GM management quickly signed off on producing the first-generation Corvette -- but that didn't stop designers from toying with the design for the 1954 Motorama show. Though the production 1953 and 1954 Corvettes were all two-seat, soft-top convertibles, two new concepts investigated if the 'Vette could spawn other body styles.

Arguably, the most outlandish idea was the Nomad. While the Corvair concept called for a fixed-roof, fastback variant of the Corvette, the Nomad was a six-passenger, two-door station wagon.
"We thought this would be a good double-cross," designer Clare MacKichan once said. "Nobody would expect to see a wagon version of the Corvette."

From the A-pillars forward, the car was all Corvette, but designers added a tasteful fixed roof, complete with sweeping B-pillars and near-panoramic rear glass. Rear fenders resembled those used on the stock Corvette, but a rounded tailgate, accented with chromed ribs, seamlessly flowed upwards from the rear valance panel. Other novelties included transverse roof flutes, and exhaust tips re-routed through new ovoid ports placed on the rear quarter panels.

While the Nomad was unconventional, it was one of the stars of the Motorama show. Public reception proved so positive that Harley Earl, GM's vice president of design, ordered a version be placed into production post haste. The Nomad entered production the very next year, but as a model based off the full-size 1955 Chevrolet instead of the Corvette. The original Nomad inspired a 2004 concept based off the Pontiac Solstice, but much like the 1954 show car, the idea never made it to production as shown.



1959 Sting Ray
What do you do with a prototype Corvette racecar once corporate management issued a company-wide ban on motorsports activities? For new GM design vice president William Mitchell, the answer was to rebody the car and go race on his own dime, although the result -- the 1959 Sting Ray -- profoundly influenced future Corvettes to come.

Mechanical failures and GM's official withdrawal from motorsports all but doomed the Corvette SS program at the close of 1957, but instead of scrapping the finished racer and a semi-completed prototype, Corvette chief engineer/ patron saint Zora Arkus Duntov carefully stored both cars within GM's warehouses. Once Mitchell was appointed a VP in 1958, his enthusiasm for motorsports - along with his taste for racing - drove him to pull strings and acquire the car for use as a "styling exercise."

What little bodywork remained on the car was quickly removed from the SS' tubular space frame - itself loosely patterned after the Mercedes-Benz 300 SL. Mitchell tasked stylist Larry Shinoda to develop a new look for the car, based loosely on a 1957 prototype (the so-called Q-Corvette) developed by Pete Brock and Bob Veryzer. The car had a thin, tapered nose, which led to a long, flat hood highlighted by sharp, rounded fenders and a bulge running down the center of the hood. Out back, the car's tail tapered in a similar fashion as the nose. The car didn't wear Chevrolet, Corvette, or GM emblems of any kind -- after all, GM didn't build (wink, wink) or campaign race cars (nudge, nudge) of any sort.

Apart from a new cooling system and a Rochester fuel injection system bolted up to the 283-cubic-inch V-8, the Sting Ray was mechanically identical to the SS - which, by the time the car debuted in 1959, was close to 2-3 years old. Forced to run in the SCCA's C-Modified class, the car wasn't quite as competitive as the Listers and Ferraris it was stacked up against, but still proved relatively successful at the hands of Mitchell-sponsored privateers. In fact, Dr. Dick "The Flying Dentist" Thompson coaxed the car to a series win in 1960.

Mitchell hoped to run the car again in 1961, and assigned employees to address several issues (including lift generated by the shapely-yet-aerodynamically-unsound nose). However, even the mighty Mitchell had to abide by pressure from upper management, who felt his racing adventures were embarrassing to the company and a violation of its rules. The Sting Ray was retired, its 283 swapped out for a carbureted 377 (and later a 427), and modified slightly for use as Mitchell's personal daily driver.



1963 Bertone Corvair Testudo
The first-generation Corvair incorporated quite a few interesting ideas cribbed from its European competitors, but hid these mechanical innovations in dowdy sheetmetal. Fortunately, some of Europe's top coachbuilders saw fit to lend the Corvair some additional European flair.

Bertone's example was perhaps the most flamboyant of these efforts. The Italian firm received a Corvair to tinker with in late 1962, and was transformed into a low-slung, space-age coupe over the course of the winter.

The radical shape was the creation of a young Giorgetto Giugiaro, then employed as Bertone's chief stylist. Measuring only 3 feet, six-inches high, the Testudo looked a bit like a flying saucer, an effect only aided by novel flip-up headlamps and a panoramic glass canopy that hinged forward to provide access to the cockpit. Mechanically, the Testudo was surprisingly pedestrian: although the Corvair's chassis was shortened in the conversion process, its 83-hp, air-cooled flat-six remained untouched.

In some ways, the Testudo like Helen of Troy: it seems to have launched a thousand sports car designs, although it never did become a production vehicle. Anatole Lapine -- who, at the time, was employed at GM -- admits the car served as an inspiration when styling the Porsche 928. Squint, and you can also see hints -- notably in the nose, headlamps, and B-pillar air intakes -- of the Lamborghini Miura, which debuted three years later.

Though Giugiaro reportedly hoped to take the care with him after he left Bertone for a stint at Ghia, he was unable to acquire the car. The Testudo remained in Bertone's stewardship until early 2011, when it sold at auction for $460,000.




1962 Corvair Monza GT, 1963 Monza SS
Bertone wasn't the only company working on transforming the frumpy Corvair into a sexy sports coupe. General Motors itself was hard at work on the same task, and may have created the most attractive Corvair spin-off of all time.

Chevrolet's R&D group was hard at work adapting the Corvair's flat-six-cylinder for use in a front-engine, front-wheel-drive vehicle, but its customized powertrain package - which placed the engine just ahead of the transaxle - sparked Mitchell's imagination. Why not place that configuration behind the cockpit and create a compact, mid-engine sports coupe? The idea was kicked into motion when engineer Jim Musser suggested he could have a running chassis built for Mitchell within months - just in time to exhibit at an SCCA race in Elkhart Lake.

Thus, the XP-777 was born. While Musser set about crafting a steel monocoque chassis, Larry Shinoda and Anatole Lapine labored in secret on the car's shape. The duo created a timeless shape that blended cues from both the C2 Corvette and period Porsche racing coupes. A low, slim nose curved outwards to sensuously flowing fenders, and also housed headlamps beneath clamshell doors. Like the Testudo, entry to the cockpit was by way of a flip-forward canopy, which was integrated with a large wrap-around front window. Access to the engine was likewise gained by hinging the rear bodywork aft of the axle.

The next year, GM followed up with the Monza SS, built atop yet another iteration of the XP-777 chassis, but with some significant mechanical differences. The car still employed torsion bar suspension and Corvair-based powertrain, but adopted a true rear-engine configuration instead of the Monza GT's mid-engine setup. At the time, GM was considering pushing both the Monza SS and GT into production as low-cost alternatives to the Corvette, and it was felt the rear engine configuration improved serviceability.

GM had started developing both the SS and GT into production cars, but it's largely believed slow sales of the 1965 Corvair -- to say nothing of Ralph Nader's campaign against the Corvair's reputation -- forced the demise of the program. Still, some good came of all that work: the XP-777 encouraged Chevy R&D to pursue further research into suspension development. Better yet, the GT caught the eye of Jim Hall, who would cooperate in secret with GM to develop and evaluate his string of Chaparral racers throughout the remainder of the decade.



1966 Chevrolet Turbo Titan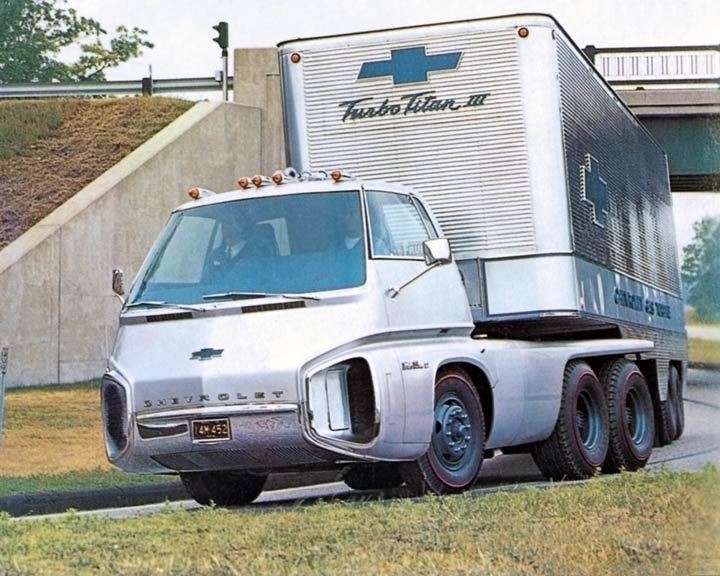 The triad of Firebird concepts may have added a dash of sex appeal to GM's experiments with gas turbine powerplants, but the majority of the automaker's turbine pursuits actually involved commercial vehicles. In fact, GM's first turbine-powered vehicle was a dowdy transit bus built in 1954, nearly two years before the jet-shaped Firebird I made its way to the Motorama stand.

Some of the Firebird's whiz-bang styling and gimmickry managed to find its way into at least one of GM's commercial vehicles. While earlier Chevrolet Turbo Titan prototypes simply shoehorned turbines into existing heavy-duty vehicles, the 1966 Turbo Titan III looked like nothing else on the world. A chiseled cab incorporated a massive, panoramic glass windshield, while two nacelles helped feed air into the turbine. Gimmicks included gullwing doors, pop-out headlamps and turn signals, and a plush interior. The most unusual feature was the steering. Instead of a conventional wheel, the driver made steering inputs through one of two large dials.

Beneath the skin, the Turbo Titan's chassis was rather conventional, save for its powertrain. GM's new GT-309 turbine was mated with a six-speed Allison automatic transmission. GM claimed the engine produced 280 hp, but its true selling point was low-end torque. As the engine's power turbine and output shaft approached stalling speed, it could produce yield as much as 875 lb-ft of torque. A new power transfer function, which mechanically connected the engine's gasifier and power turbines, provided for increased engine braking.

Although engineers ran the truck from coast to coast several times, the truck itself was little more than a promotional vehicle, and was ultimately scrapped when deemed irrelevant. GM's gas turbine program suffered a similar fate. GMC promised to offer a gas turbine in its Astro 95 cabover and several transit coaches between 1971 and 1973, but the turbine's thirst for fuel, along with rising oil prices, forced GM to scrap the idea altogether.



1965 Mako Shark II/ XP-830
Just because the 1963 Corvette was a styling home run didn't mean designers could sit about and rest on their laurels. The seeds of what would turn into Mako Shark II - and, subsequently, the third-generation Corvette - were planted in 1964. Mitchell tasked Larry Shinoda's group to develop a mockup for a single-seat, open-wheeled sports car into a fixed-roof, two-seat coupe - or, in other words, something that could become the next Corvette.

Introduced at the 1965 New York auto show, the Mako Shark II was a dramatic departure from previous production and conceptual Corvettes. The low nose and arching fenders were reminiscent of the Monza GT and SS show cars -- as were the retractable headlamp covers -- but exaggerated to almost cartoonish proportions. A large bulge rising from the low hood wasn't for show, but necessary to provide room for a big-block V-8. Mitchell insisted the body taper to a rather narrow passenger cabin, which further empathized the wild fenders.

The Mako Shark II's shape was equally radical out back, where its roofline narrowed to a triangular point, and its rear window obscured by adjustable louvers. A ducktail rear fascia swept upwards towards the car's beltline, and also housed a retractable lip spoiler and extendable thin bumpers. These were far from the only fanciful features on the car; the interior incorporated digital instrumentation, turn signals hidden behind opening, gill-like louvers, adjustable pedals, a rectangular steering wheel, and a roof panel that raised to aid entry and egress.

Though it bore emblems indicating a 396-cubic-inch V-8 was installed, the Mako Shark II didn't actually function until several months after the fact. By the time GM showed the car at the Paris motor show later that year, it bore a 427-cubic-inch V-8, and was operational -- but it did do without the side-exit exhaust pipes and rectangular steering wheel. In typical Mitchell fashion, the car was modified again in 1969, a year after the third-generation Corvette it inspired launched. Renamed the Manta Ray, the car received a new, pointed tail, a revised rear window treatment, exposed headlamp fairings, and the mighty aluminum-block ZL1 454-cubic-inch V-8.



1973 Corvette Four Rotor/ Aero Vette
When the topic of a mid-engine Corvette inevitably arises, there's a good chance the XP-877 comes up, and for good reason. Not only is the car the most striking of a series of mid-engine Corvette concepts, but it also received the most publicity -- much of which heralded the car as being the next production Corvette.

In actuality, the car was Duntov's way of creating a Wankel rotary engine that suited his tastes. GM had paid $50 million for the rights to develop a Wankel of its own, but that engine -- dubbed the GMRCE -- was a small two-rotor affair, tuned to produce 180 hp. Some suggested the engine could be tweaked to yield as much as 250 hp, but even that wasn't up to snuff: Duntov dismissed the idea of a 250-hp RCE as "only a Nova engine." He wasn't far off, as GM had hoped to stuff it into its Vega compact car by 1975.

The solution? Mate two two-rotor engines together to create a monstrous four-rotor Wankel. Duntov's right hand man, Gib Hufstader, did just that, creating a complex yet powerful engine. GM alleged the engine displaced close to 390 cubic inches -- make it one of the largest Wankels ever placed in an automobile- and with the help of two four-barrel carburetors, produced close to 420 hp.

It took Hufstader only two months to get the engine running within the lab; another month was spent installing it in the leftover XP-882, which was used as a development mule after being the star attraction at the 1970 New York auto show. Design Staff brass were shown the initial four-rotor prototype in early 1973 and made a decision to completely reskin the car in time for the Paris Motor Show that September. A design for a mid-engine Corvette, penned by Henry Haga under the auspices of Chuck Jordan, was chosen to be stretched over the XP-882's frame.

Though similar to the original XP-882, the new body was far more graceful; though it still rode on the same 95.5-inch wheelbase, the long front and rear overhangs lent it a longer look. The car stood only three-and-a-half-feet tall -- necessitating the bi-folding gullwing doors -- while the wrap-around windshield, bisected by a character line that ran the entire length of the car, was raked at an incredible 72 degrees.

The car looked futuristic, and many proclaimed the car to be the next Corvette (a 1976 issue of Road & Track proclaimed it to be ready for 1980), but it wasn't to be. After the rising fuel costs and the OPEC embargo essentially killed GM's Wankel program, GM fitted the car with a 400-cubic inch V-8, and re-christened it the Aero Vette. A V-8-powered form was tentatively approved for production, but after Duntov and a number of proponents retired, those plans were scuttled.



1990 CERV III
The first two Chevrolet Engineering Research Vehicles -- both developed by Zora Arkus Duntov -- were intended primarily for use within GM as engineering test beds. The third car to bear the CERV acronym, however, was different: this was a rolling showcase of GM's advanced technology for the world to see.

As its rounded, mid-engine form suggests, the CERV III has its roots in the Corvette Indy concept, which debuted in 1986. After building one non-running variant, GM then built two operable examples -- one of which was ultimately transformed into the CERV III, which debuted at the 1990 Detroit auto show.

Unsurprisingly, much of the technology packed within the CERV III was supplied by both Delco Electronics (later spun into Delphi) and Group Lotus, which was then under GM's ownership. A twin-turbocharged version of the Lotus-developed LT5 5.7-liter V-8 - the engine found in the Corvette ZR-1 -produced close to 650 hp. The engine was bolted to a three-speed transverse automatic transmission, but with the aid of a two-speed auxiliary gearbox, the CERV III effectively sported six forward gears.

As was the case with the CERV II before it, CERV III was an all-wheel-drive vehicle, but also benefited from the addition of a computer-controlled four-wheel-steering system. Other advents included a multiplexed electrical architecture, and an advanced adaptive suspension system cribbed from Lotus, who'd been toiling on such the design since the early 1980s.

The CERV III was reportedly capable of hitting a top speed in excess of 220 mph, and had it gone into production, would have carried a price tag north of $200,000. Ultimately, the car was just a testbed - though many of its styling cues and advanced features would later be worked into fifth- and sixth-generation Corvettes.



2003 SS
After the death of the Camaro in 2002, there was a conspicuous gap in Chevrolet's lineup, especially when it came to performance offerings. The SS, which debuted at the 2003 Detroit show, pulled at the heart strings of muscle car enthusiasts while simultaneously testing the waters for a high-performance, rear-wheel-drive sports vehicle that wasn't a Corvette.

Designed by Fritz van Holzhausen (who now leads design at Tesla Motors), the SS was described in press materials as a modern interpretation of Chevrolet's Super Sport heritage -- but it wouldn't say which Super Sport cars. Is that a bit of Chevelle I see there? Some '69 Camaro peeking through? Maybe some Monza SS in the rear fascia design?

Perhaps. The SS managed to somehow dip into nostalgia without being blatantly retro or ripping off the original design. The sinewy form tripped auto show audiences into flashback mode, but still looked fresh, contemporary, and far less stodgy than any other sedan Chevy offered at the time.

Product czar Bob Lutz referred to the SS as a "four-door Corvette." Although that may have been a bit of hyperbole, the concept did utilize a 430-hp, aluminum-block 6.0-liter V-8, and send its power to the rear wheels (albeit through a four-speed automatic transmission).

Despite a warm reception from both the press and the public, the SS never came to fruition. Insiders suggest a proposed rear-wheel-drive Impala project bore some resemblance to the SS, but the project was ultimately canceled.

automobilemag.com